---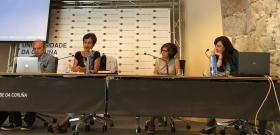 SUG research groups meeting takes place
10th Semptember 2019
UDC Rectorate Building
The working session was held last Friday 6th, and featured representatives of the main Galician Studies research groups at the Galician University System (SUG).
---
The meeting promoted by ILLA was aimed at SUG research groups working in Galician Studies, in the linguistic, literary and cultural fields.
The lines of research and the main results of each group were presented by Fernando Cabo Aseguinolaza and Mª do Cebreiro Rábade Villar (USC Literary Theory and Comparative Literature group), Elias Feijo (USC GALABRA group), Manuel Forcadela, Iolanda Galanes and Ana Luna (UVigo BIFEGA group), Dolores Vilavedra (USC Literary History group) and Mª Álvarez de la Granja (USC FILGA group). Teresa López, coordinator, and Xoán López Viñas spoke on behalf of ILLA.
At the meeting, generational change was identified as the main problem, while the diversity in orientations, characteristics and material conditions of the groups present was confirmed. Some areas that need more attention by Galician university research were equally mentioned. The relevance of having new vehicles for disseminating research results was discussed as well.
The day concluded with the agreement on the need to hold similar meetings in the future and to open them to other areas of Galician Studies, in order to promote synergies between the research groups of the SUG.
ILLA would like to strongly thank the generous reception of its proposal by the USC and UVigo groups.