---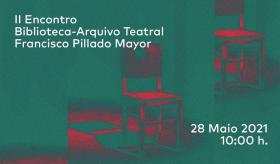 The II 'Francisco Pillado Mayor' Theatre Library and Archive Encounter takes place
28th May 2021
The online session revolved around research on Portuguese theatre.
---
Last Friday, May 28, the II 'Francisco Pillado Mayor' Theater Library and Archive Encounter was held with great success. On this occasion, the meeting focused on research in theater in the Portuguese language and served to present the lines of research of the main centers involved in the study of dramaturgy and staging of the other side of the Miño.
The Meeting also made it possible to open lines of collaboration with the ILLA group and the Library-Theater Archive, either in the research field or in the dissemination of its results, looking forward to consolidating the relationship between Galician and Portuguese theatrical research.