---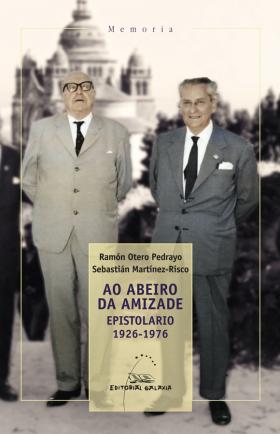 Professor Freixeiro Mato publishes the correspondence between Otero Pedrayo and Martínez Risco
June 2021
Xosé Ramón Freixeiro Mato, professor at the Faculty of Philology and a member of ILLA, transcribed and edited fifty years of correspondence between these two agents in the volume Ao abeiro da amizade. Epistolario 1926-1976.
---
The epistolary between the writer Ramón Otero Pedrayo and the former president of the Royal Galician Academy, Sebastián Martínez Risco, has just been published in Editorial Galaxia in a volume transcribed, introduced and annotated by Xosé Ramón Freixeiro Mato.
The book is presented as a set of varied texts in which cultural activity predominates, mainly around the Royal Galician Academy, its acts and initiatives, together with the process of elaboration of the works of the two authors and their editorial adventures, but where readers may equally find intimate and personal aspects that reveal the human quality of the two friends: sadness and happiness due to family vicissitudes, humility and modesty rejecting honors and praise, generosity in the fulfillment of tasks in favor of the cause of galeguismo, conflicts and tensions with the society of their time and disinterest in personal perks.
All information about the book can be consulted on the publisher's website.