---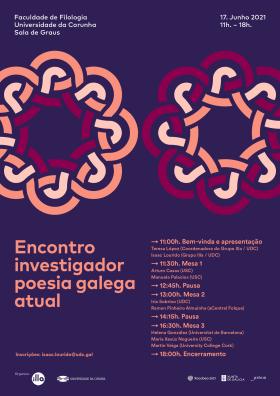 'Poesia galega atual' research meeting takes place
17th June 2021
Faculty of Philology Conference Room (Salón de graos)
The session was held with a high attendance, both in person and online.
---
The research meeting 'Poesia galega atual' presented the main lines of work on Galician poetry at the present time, organized in three panels. The first of them was formed by Manuela Palacios, from the University of Santiago de Compostela, and Isaac Lourido, due to the absence of Professor Arturo Casas for health reasons. In it, the main points of interest of the interuniversity working groups of both speakers were shown: the relations between Irish and Galician poetry with a feminist perspective and the study of non-lyrical poetic discourses in public and political space. Next, the second panel brought together the professor from the University of Coruña Iria Sobrino, who explained the various lines of research on the tradition of oral poetry with a didactic perspective in which she participates, and the cultural manager Ramom Pinheiro Almuinha, who presented the works carried out in the field of oral poetry by aCentral Folque.
Helena Fernández, María Xesús Nogueira and Martín Veiga participated in the afternoon panel, from the University of Barcelona, ​​the University of Santiago de Compostela and the University College Cork, respectively. Fernández presented his latest works in the field of Galician poetry, the theoretical approach to this subject through conceptual frameworks such as the Affect theory, teaching projects that include Galician poetry at the UB and the scientific journal Abriu. María Xesús Nogueira, for her part, revisited the last research lines of the projects presented during the morning by Manuela Palacios, with special attention to the theme of the animal trope, but also presented her work as an anthologist and poetic critic, which had a special relevance during this year, in which the Día das Letras Galegas was dedicated to Xela Arias. Eventually, Martín Veiga presented his work of poetic criticism and his most recent research, while explaining the relationship between his own poetic creation and the research he carries out.
The aforementioned interventions, in addition to their own interest, aroused numerous comments and points of debate among the public; due to this, the ILLA group is fully satisfied with the celebration of the event and hopes to be able to organize similar experiences of academic teambuilding in the future.