---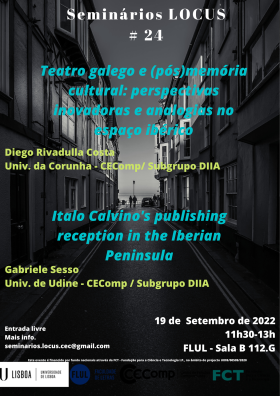 Diego Rivadulla will participate in the XXIV LOCUS Seminar
19th September 2022
Faculty of Arts (University of Lisbon)
During the event, the ILLA postdoctoral researcher will present the results of his research 'Teatro galego e (post)memoria cultural: perspectivas inovadoras e analoxías no espazo ibérico'.
---
Diego Rivadulla Costa, postdoctoral researcher in the ILLA Group, is carrying out a research stay at the University of Lisbon linked to the DIIA / LOCUS - CEComp subgroup.
As part of the same seminar, Gabriele Sesso, a graduate in Italian Studies from the University of Udine, in collaboration with the University of Trieste, will present a paper on "Italo Calvino's publishing reception in the Iberian Peninsula".
The event will take place in room B112.G of the Faculty of Arts of the University of Lisbon.