Students
---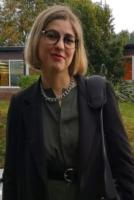 María Fernández Zas
María Fernández Zas graduated in Music at the "Eduardo Martínez Torner" Higher Conservatory of Music, specialising in Viola (2012). Furthermore, she holds a degree in Galician and Portuguese: Linguistic and Literary Studies (2019) and in English: Linguistic and Literary Studies (2019) from the University of A Coruña, winning the Extraordinary Prize of Degree of the UDC in both academic qualifications. In addition, she completed the University Master's Degree in Teacher Training for Compulsory Secondary Education, Upper Secondary Education, Vocational Training and Language Teaching at the University of Oviedo in the academic year 2012/2013.
From September 2017 to May 2018, she was a scholarship holder in the Department of Letters of the Faculty of Philology (University of A Coruña) in the project Annotated Critical Glossary of Medieval Galician-Portuguese Poetry (Part 3). Cantigas d'amor: an Online Critical Edition, under the direction of Professor Manuel Ferreiro Fernández. In 2017, she was awarded the XIV Luísa Villalta Prize to Normalising Initiatives in the categories "The Design of a Campaign to Normalise Galician" and "An Idea for the Promotion of the Galician Language". Likewise, in 2019 she won the IX Galician Translation Prize of Scientific and Technical Texts of the UDC in the modality "direct translation from English to Galician".
Nowadays, her research field is linguistic studies, paying special attention to Galician sociolinguistics. She published some works on the phenomenon of newspeakerness in Galiza, which is the subject of her doctoral thesis, directed by Professors Manuel Ferreiro Fernández and Xosé Manuel Sánchez Rei.
Publications

Other merits