Students
---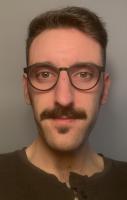 Paulo Fernandes Mirás
Paulo Fernandes Mirás studied at the University of A Coruña, where he studied a doble degree in English and Galicia-Portuguese and he also completed a Master's degree in Cultural Literature and Diversity and a Master's degree in Teaching in Obrigatory Secondary Education.
As a researcher, he is responsible for the poetry anthologies of Ricardo Carvalho Calero (2019) and Ernesto Guerra da Cal (2021) published by Através Editora and the biography of Ricardo Carvalho Calero (2020) published by Ir Indo. He is also a professor of Galician language and literature and a corresponding member of the AGLP.
He is currently working on his doctoral thesis on the edition and critical study of Carvalho Calero's complete poetic work in Galician.