---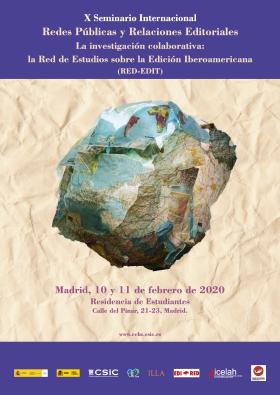 Carme F. Pérez-Sanjulián takes part in 'X Seminar on International Public Networks and Publising Relationships'
February 2020
Residencia de Estudiantes (Madrid)
The seminar is organised within the thematic network of excellence in Data and Studies on Ibero-American and Transnational Publishing, directed by Pura Fernández.
---
This relevant scientific meeting, with a multidisciplinary approach and a synchronous and diachronic perspective, will address the challenges and transformations that drive the activity of the publishing sector from the points of view of History of Latin American Publishing, Culture and Literature, Translation and Documentation Studies, History of Business and Economics of Cultural Industries, Public Policy, Computer Technology, along with the perspective of gender studies.
In the session dedicated to "La edición en España: el paradigma de la diversidad" ("Publishing in Spain: the paradigm of diversity"), Prof. Pérez-Sanjulián, together with Prof. Nieves R. Brisaboa, of the Faculty of Computer Science, will make an intervention on "Posibilidades y dificultades del uso de la tecnología en los estudios sobre la edición" ("Possibilities and difficulties of the use of technology in Publishing Studies").
More information at: http://www.cervantesvirtual.com/portales/editores_editoriales_iberoamericanos/